Among all the noise-canceling headphones launched by Sony in recent years for different market segments, the two most advanced models stand out, circumaural -better known as headband- and intraural -earpiece-. They are distinguished from each other by a single letter and, as is customary with this brand, they carry a name that is never easy to remember. In the case of the launch announced today, it is the intraural model, which reaches its fifth edition and is called WF-1000XM5. Smaller and more powerful, with new ways to make external noise cancellation, one of the fields in which the Japanese multinational works like no other, even more effective.
Sony boasts that in its new model you can experience the best noise cancellation quality on the market. To achieve that higher degree of efficiency (the WF.1000XM4 were already excellent), the new ones have three microphones in each earcup, two of them are feedback, which facilitates suppression of low frequencies, thanks to a new integrated V2 processor that takes advantage of the potential of a dedicated noise cancellation processor called HD QN2e.
Noise cancellation is based on the creation of a sound probe inverse to that of ambient sound, so that they cancel each other out to produce no noise. Hence the importance of having several external microphones, like this model that has six, as well as a dedicated processor just for this type of function. Connectivity is Bluetooth 5.3 and according to Sony it provides a very stable connection.
The WF-1000XM5 headphones have Dynamic Driver X speakers with a diaphragm composition that combines different materials for the dome and edges, "which facilitates clear and deep high sounds, and rich bass with low distortion", according to Sony, ensures that the voices are "richer and more detailed". The HD QN2e and V2 processors have precision 24-bit audio processing and high-performance analog amplification, giving you "low distortion and crystal clear audio reproduction."
Sony also highlights the quality of phone calls with the WF-1000XM5 for a number of reasons. Artificial intelligence allows you to separate the user's voice from outside sound. To detect the user's voice, the headphones have a bone conduction sensor, which distinguishes the sound waves coming from the throat. In addition, the main external microphones have a type of mesh that reduces the sound of the wind.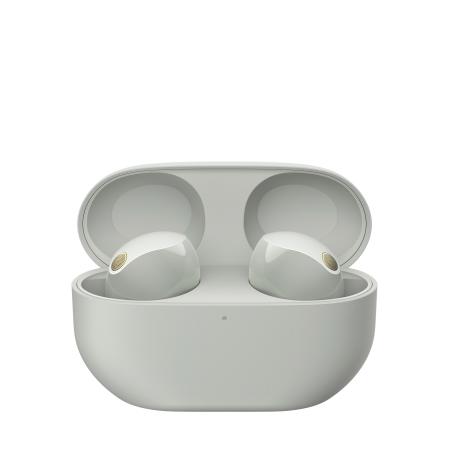 Sony
The WF-1000XM5s also have improved design over the previous generation. They are more comfortable to put in your ears (with four different eartip sizes), 25% smaller and 20% lighter than the previous model. In addition, they have a multipoint connection, so it can be used with very different devices at the same time, such as going from Windows to Mac or from iPhone to Android, always in several ways. They have IPX4 water resistance (resist sweat and take them in the rain).
The battery has 24 hours of playback on a single charge, with the box-charger and 8 hours. It has wireless electric charging and receive reverse charging of Xperia phones. Among the music formats, they can reproduce DSEE Extreme, high-resolution wireless audio and 360 Reality Audio immersive sound, with head tracking, which allows fixed sound sources to be positioned around the user and remain in the same point even if the user moves. The new model will be available in two colors, black and silver, during the next month of August with a price that corresponds to the premium range: 320 euros.
read also